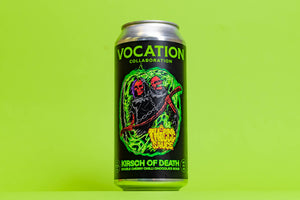 Vocation x Thiccc Sauce | Kirsch Of Death Double Cherry Chilli-Chocolate Sour 7.5%
A second bite at the cherry...
Kettle sour brewed with double the cherry addition of Death By Cherries, for a total of 1 tonne of fruit.
Brewed with Bourbon-infused chillis and dark chocolate. Thick and juicy dark Morello cherry up-front, Bittersweet smoky heat of chipotle & ancho chillies and dark chocolate with a lingering hint of Bourbon.
Brewed in collaboration with Vocation Brewing
SWEET | SPICY | SOUR
Style: Fruited Kettle Sour
ABV: 7.5%
Size: 440ml Can
Allergens: Malted Barley, Wheat, Oats (Gluten)
Dietary Information: Suitable for Vegans