THICCC SAUCE NEWS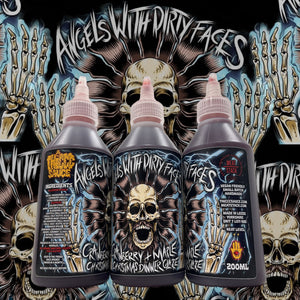 ANGELS WITH DIRTY FACES
Cranberry & Maple Christmas Dinner Glaze (Meatstack Collab)
We've bumped heads with burger giants Meatstack to create the perfect Christmas dinner condiment. Crammed full of cranberries, blueberries, bourbon barrel aged Vermont maple syrup, fermented chipotle & red habanero and spiced to the nines with cinnamon, coriander, fennel, ginger, caraway, cloves, nutmeg & pimento. This sauce will transform anything on your plate on the big day.
200ml bottle
VEGAN FRIENDLY
GRAB A BOTTLE HERE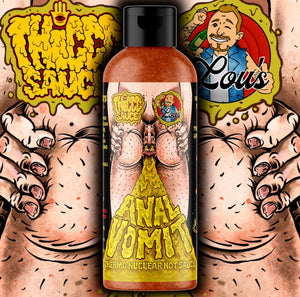 ANAL VOMIT
THERMO NUCLEAR HOT SAUCE
Packed full of the worlds hottest chillis (64% worth) plus a healthy dose of 6 million Scoville capcaisin extract, this sauce is no joke. By far the hottest sauce either of us have made & likely ever will.
VERY HOT
CONTAINS EXTRACT
Contains sulphites 
VEGAN FRIENDLY
100ml glass waxed
GRAB A BOTTLE HERE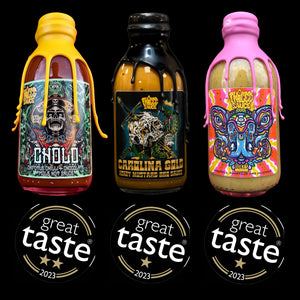 GREAT TASTE WINNERS!
We are stocked to have been awarded some stars in this years Great Taste Awards!
CHOLO Mole Hot Sauce ⭐️⭐️
"What a fascinating idea! After reading the product description, we were wondering if these elements would delight the palate. The chillies are there in abundance, while the cacao brings depth to the whole. There was some discussion as to whether the sharpness held it back a shade, but we otherwise agreed it's a fine product indeed"

CAROLINA GOLD Honey Mustard BBQ Sauce ⭐️
"This has a rounded aroma, honeyish, mustardy with a lively tang. You get the vinegar, but it is tempered by the honey and deepened by the mustard. It is sweet and tangy, with a good consistency, and a long finish that has a little tingle. It would be versatile not only for barbecue but for ham. The level of seasoning is just right"
DYSTOPIA Pineapple Tomatillo Jalapeno ⭐️
"There were the most wonderful fresh notes on the nose. The mint sang out and then pineapple appeared. On the palate the gentle heat was delightful and mellow, lasting just the right amount of time. The sauce is perfectly balanced with all the elements singing out in harmony. We felt that the sauce would be so versatile. Very interesting and delicious. We loved the natural appearance and thickness"
BUY HERE