THICCC SAUCE NEWS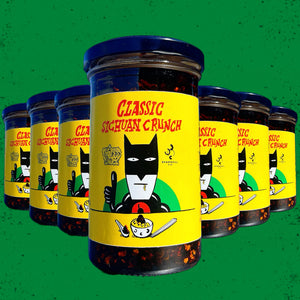 CLASSIC SICHUAN CRUNCH IS BACK!
After a straight sell out when first released, our tasty crispy chilli oil with @brownhillandco is now back in stock! 🔥🔥🔥
If you have a palette for umami flavours then this is literally for you. A base of sesame & soybean oil, fermented salted black soybeans, shallots, soy sauce & spices. There is no cutting corners with the quality of ingredients used in this, it's spoonable & perfect for the colder autumn months 🍂🍂🍂
Online now in 277ml jars only.
Artwork by @bathedailey 👊🏻
Contains Sesame, Soy, Wheat
GRAB A JAR HERE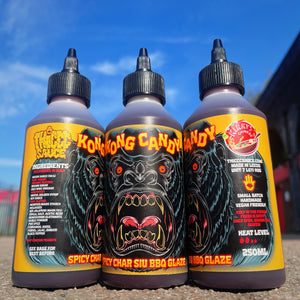 KONG CANDY SPICY CHAR SIU GLAZE
KONG CANDY Spicy Char Siu BBQ Glaze 🥢🦍🫗🥡🇨🇳

In Collaboration with @kirkys_chinese

Kirky's Chinese is run & owned by our very own member of Staff Vanessa. Throughout this year while we've both been churning out the huge range of sauces we make we've been carefully developing a super tasty spicy char siu glaze. Deep red in colour, packed full of umami flavours from hoisin, rice wine vinegar, soy, cinnamon, anise, fennel, ginger & nicely mildly spiced with some fermented red jalapeño chillis. We gave this our signature sticky glaze treatment & whacked it in a nice easy 250ml squeezy bottle for easy drizzle action over some bbq meats and everything eastern cuisine. We are super stoked with this 😍😍😍

Vegan friendly
Contains sesame, soy, wheat, gluten, sulphites
GRAB A BOTTLE HERE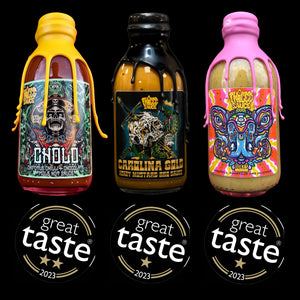 GREAT TASTE WINNERS!
We are stocked to have been awarded some stars in this years Great Taste Awards!
CHOLO Mole Hot Sauce ⭐️⭐️
"What a fascinating idea! After reading the product description, we were wondering if these elements would delight the palate. The chillies are there in abundance, while the cacao brings depth to the whole. There was some discussion as to whether the sharpness held it back a shade, but we otherwise agreed it's a fine product indeed"

CAROLINA GOLD Honey Mustard BBQ Sauce ⭐️
"This has a rounded aroma, honeyish, mustardy with a lively tang. You get the vinegar, but it is tempered by the honey and deepened by the mustard. It is sweet and tangy, with a good consistency, and a long finish that has a little tingle. It would be versatile not only for barbecue but for ham. The level of seasoning is just right"
DYSTOPIA Pineapple Tomatillo Jalapeno ⭐️
"There were the most wonderful fresh notes on the nose. The mint sang out and then pineapple appeared. On the palate the gentle heat was delightful and mellow, lasting just the right amount of time. The sauce is perfectly balanced with all the elements singing out in harmony. We felt that the sauce would be so versatile. Very interesting and delicious. We loved the natural appearance and thickness"
BUY HERE