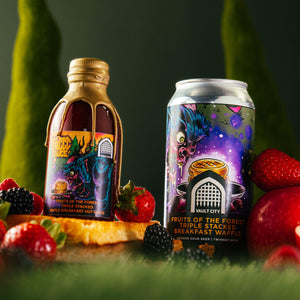 FRUITS OF THE FOREST TRIPLE STACKED MAPLE BREAKFAST HOT SAUCE
****
BEER & HOT SAUCE BUNDLE

****

(Vault City Collab)

JUST LIKE LAST YEARS SAUCE, WE CRAMMED THIS BATCH FULL OF FRESH FRUITS FROM THE FOREST: (BLACKCURRANT, REDCURRANT BLACKBERRY, SOUR CHERRY, STRAWBERRY, RASPBERRY) ALONG WITH RHUBARB & APPLE. IT THEN WOULDNT BE A BREAKFAST SAUCE WITHOUT ADDING BUCKETS FULL OF CANADIAN MAPLE SYRUP.
THIS YEARS BATCH IS HEAVILY SPICED WITH
FERMENTED SCORPION GHOST CHILLI
WITH AN ADDED DASH OF LOCAL COFFEE TO
TRANSFORM THIS SAUCE INTO THE BEST
MORNING WAKE UP CALL!
Contains: BARLEY
SAUCE INGREDIENTS
FRUITS OF THE FOREST (30%)
(BLACKCURRANT, REDCURRANT
BLACKBERRY SOUR CHERRY
STRAWBERRY, RASPBERRY)
PRESSED APPLE JUICE
CAYENNE CHILLI MASH (12%)
(CHILLI, SALT, ACETIC ACID
GOLDEN SYRUP
CANADIAN MAPLE SYRUP (9%)
DISTILLED MALT VINEGAR
(SULPHITES, FROM BARLEY)
RHUBARB. ONION SUGAR
RASPBERRY VINEGAR
TRINIDAD SCORPION MASH (3%)
(CHILLI, SALT, ACETIC ACID)
NATURAL FLAVOURING
DARK ROASTED COFFEE
XANTHAN GUM
BEER INGREDIENTS
WATER, MALTED BARLEY(GLUTEN), LACTOSE, RASPBERRY, RHUBARB, APPLE, BLACKBERRY, STRAWBERRY, MAPLE, VANILLA, HOPS, YEAST
440ML
10.3%